Your gourmet experience in our restaurant at Sarlat La Caneda
Since its creation 40 years ago, our campsite restaurant has been offering delicious Périgord dishes based on local produce, in a friendly atmosphere.
Your campsite restaurant
The restaurant's chef is happy to work on his recipes and listen to you, to turn your meals into pure moments of happiness.
Are you a foodie with a love of local products? Then our Sarlat La Caneda restaurent is the ideal place to go.
The restaurant always offers an exceptional dining experience in harmony with nature!
A large terrace
The restaurant's terrace is divided into covered and uncovered areas, for sun or shade, so that you can enjoy the scenery during all your meals, even when the weather is unsettled or very hot.
Check the restaurant's timetable and menu when you arrive and come along at mealtimes to get your table and chat about your unforgettable holiday experiences with your friends or children.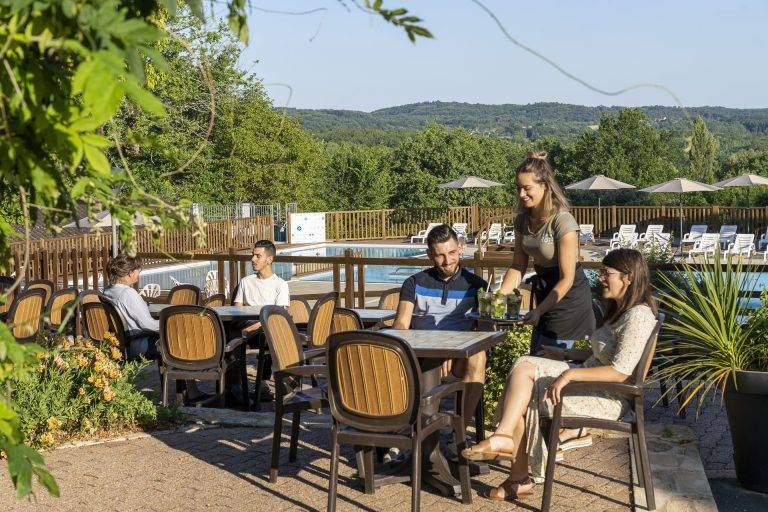 A gourmet break in the Dordogne
You can enjoy delicious local dishes on the large outdoor terrace by the heated pool in a wonderful natural setting, surrounded by natural shrubbery and overlooking the estate's woodland.
Come and take advantage of our restaurant, which is open to diners not staying on the campsite. Its large terrace is an opportunity for you to enjoy good local fare with your family.
After a good meal full of local flavours, you can choose between several activities, visit Sarlat town centre, the Manoir de Gisson, or the Lascaux caves, 30 minutes away by car.