A campsite with swimming pool in Bergerac
Are you looking for a campsite in Bergerac? Then welcome to the water park at Les Grottes de Roffy campsite, a place for swimming and relaxation designed for the whole family. What could be better than a campsite with a swimming pool for your stay in Périgord Noir?
Don't be surprised if your children put on their swimsuits the minute they open their suitcases in your mobile home.
Our 4-star Bergerac campsite has an XXL water park with two outdoor pools and a heated paddling pool.
The large swimming pool is a delight for swimmers who want to perfect their breaststroke, crawl or backstroke. It also delights teenagers who want to cool off, dive in and glide through the water with their new friends.
Are you looking for a more relaxed atmosphere? Take a seat in the small pool and enjoy the benefits of the water heated to an optimum temperature in high and low season. You will appreciate your invigorating and relaxing dips in the pool after your visits and activities in Périgord, especially during the summer, when the mercury can creep above 30°C.
Are your little children afraid to jump into the pool? The campsite has a paddling pool with water games and a slide designed for little bodies. They will be able to play for hours, woosh down the slide and learn to enjoy the water in complete safety.
The water park also has a solarium with sunloungers, and a playground. Found the right pool for you? Take a leisurely dip, not forgetting to admire the green mountains and the valley that surround you. You will soon realise that our campsite with its heated swimming pools will become the meeting place for your tribe during your holidays in the Dordogne near Bergerac.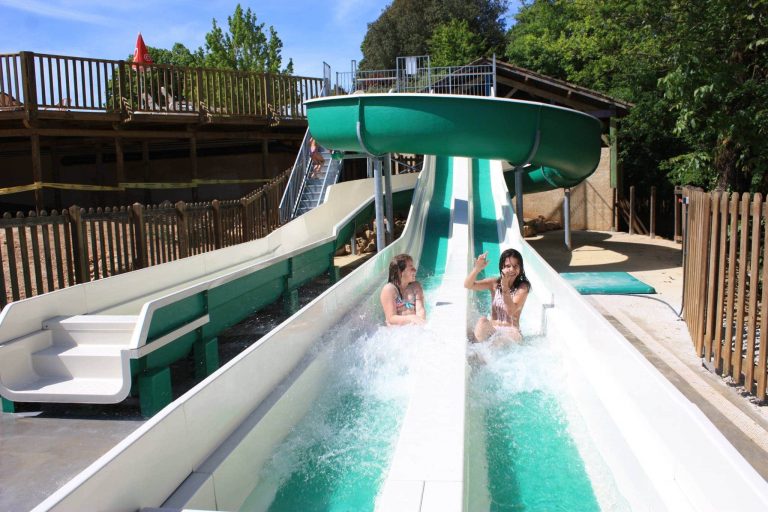 Book a mobile home in Bergerac, Dordogne
Are you looking for high quality, low-cost accommodation at a Sarlat campsite? Our team has selected several models of mobile homes for 4 to 6 people, very well integrated in nature and bordered by natural hedges.
Luxury mobile home rental with fully equipped kitchen and large terrace, lodge with a contemporary decor, or Safari tent for 5 people for those who can't make up their minds between a tent and a mobile home, a charming 28 m² apartment for 4 people with its own private garden: can you find your dream accommodation at a great price in our campsite?
Our accommodation options are all fully furnished and equipped quality units for couples, families and groups of friends looking for a comfortable stay in the Périgord while enjoying the facilities of a premium campsite. Have you found the right mobile home for you at our Bergerac campsite? Book now and our team will make your holidays in Dordogne unforgettable.
What to do in Bergerac ?
The Museum of Wine and River Transport: an ethnographic museum devoted to the history of wine, cooperage and inland waterways on the Dordogne.
Tasting at Château de Monbazillac: an iconic estate at a Renaissance château. To combine a cultural visit, historical discovery and wine tasting.
The Tobacco Museum: A collection of rare items that trace the history of tobacco throughout the world.
Discover the old town of Bergerac: the statue of Cyrano, the Notre-Dame-de-Bergerac church, the cobbled streets and half-timbered houses, the magnificent Récollets cloister, the old port on the Dordogne.
La Maison des Vins: on the Quai Cyrano, in the historic town centre, a must-see site which includes a reception pavilion, a wine area, a shop, a beautiful terrace above the old port, a historic cellar and a scenographic tour around Cyrano de Bergerac.