Hire a canoe in Sarlat
Are you on holiday or a weekend break in Sarlat? Why not discover the region by canoeing from the campsite?
Both sport and fun, it's the perfect outdoor activity for the whole family, especially as the area is ideally suited to it thanks to its wide variety of waterways (rivers, lakes, leisure parks).
Discover bathing spots in the Dordogne.
Treat your loved ones to a canoe trip or take your children on a water-based discovery of the Périgord region and the treasures it holds.
There's plenty of choice for canoe hire in the Dordogne Valley and Vézère Valley near Sarlat.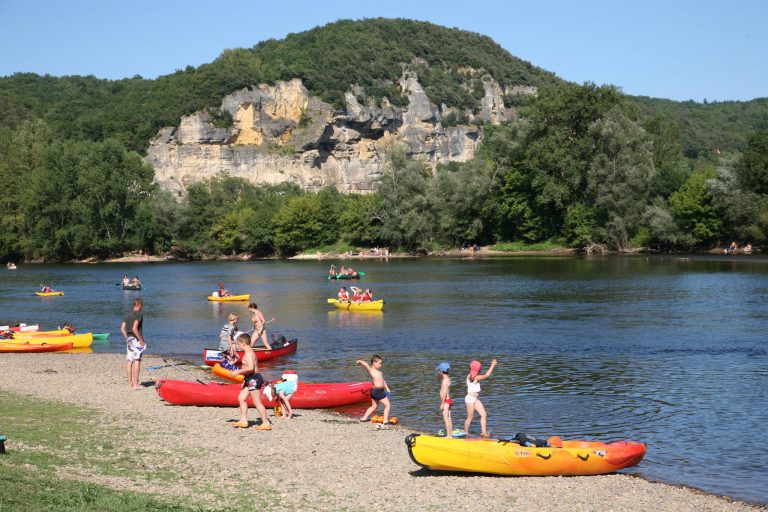 Canoeing down the Dordogne rivers
Domme: Canoë Loisirs: 1 to 4 hour routes and 2 to 6 day trips.
Vézac: Couleurs Périgord: departure from the beach, routes from 5 to 22 km and trips over several days;
Canoë Découverte: 5 self-guided routes from 7 to 28 km, from Carsac to Les Milandes.
Vitrac
Canoës Azur, at La Bouysse campsite: self-guided descent on routes of 12, 15 and 22 km and over 2 days;
Canoë Soleil Plages: departure from the beach of Domaine de Soleil Plage campsite, routes from 6 to 22 km;
Copeyre Canoës: between Vitrac and Beynac, routes between 1 and 5 hours and multi-day trips.
Carsac-Aillac
Canoë Sans Frontière: self-guided circuit and return in shuttle.
La Roque-Gageac
Canoë Vacances, near the Pendouilles cliffs: 9, 16 and 25 km circuits, ending in the Joséphine Baker park. Free return by minibus.
Canoë Dordogne: kayaks and canoes for 2 to 4 people and 8 to 10 people, guide for groups on request. Routes: 9, 16 and 22 km. Supervision by a professional guide. Return by shuttle.
Cénac-et-Saint-Julien
CanoSphere, near the Bastide de Domme: self-guided descent, 5 routes offered, possibility of trips hiking for several days alone or in a group. Return free of charge.
Day trips and tours
Whether you are with your family, your partner or your friends, there are numerous day trips available.
We have selected for you some of the most popular river trips around Sarlat in the Dordogne.
What could be better than going for a ride in a natural setting like the Dordogne Valley? Canoe kayak hire is the perfect alternative for an outdoor activity.
Carsac-Beynac, 22 km (4 h). Discover the castles of Montfort and Castelnaud, the bastide of Domme and the fort of La Roque-Gageac. Picnic on the banks, walk along the beaches. Arrive at the foot of Beynac castle.
Carsac-Vézac, 22 km, to discover the nature and the castles.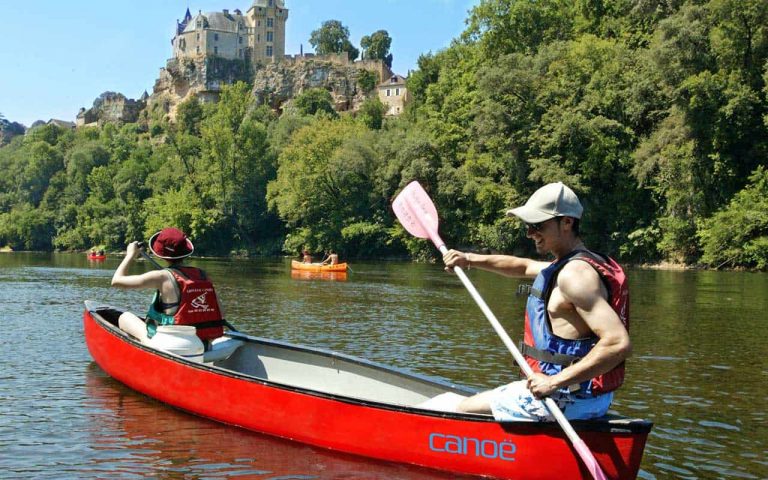 Carsac-Beynac, 25 km (4h30). 6 castles and 3 listed villages.
Beaulieu-Copeyre, 26 km, fairly easy circuit. Pass: 2 castles, the cliffs, a medieval village and experience a slide.
Argentat-Beaulieu, 22 km (4-5 hrs), with small rapids.
Carsac-Les Milandes, 25 km. Discover the fauna and flora, the cliffs, pass by the Montfort castle, under the cliffs of Pendouilles, in front of La Roque.
Pendouilles, in front of La Roque-Gageac, Marqueyssac, Castelnaud, the castle of Fayrac, Beynac. Arrival in front of the château des Milandes.
Copeyre-Souillac, 28 km (5-6 h), medium difficulty. Paddle through wild gorges, admire castles and enter a cave.
Gluges-Souillac, 28 km, contemplate birds of prey, pass through a cave, past cliffs and through wild gorges.
Domme-port d'Enveaux, 28 km (4 to 5 hours) passing through Castelnaud.
Souillac-Vitrac, an easy 29 km circuit (5 or 6 hours).
Other canoe rentals around Sarlat
You can also rent canoes:
15 km from Sarlat, in Saint-Vincent-de-Cosse, with Canoë Détente, River Canoë Kayak or Canoë Roquegeoffre ;
at Les Eyzies, with Canoë 24 and Canoës Vallée Vézère ;
in Saint-Léon-sur-Vézère, with Canoë Vézère ;
at the Trémolat water sports centre;
at the port of Limeuil in Alles-sur-Dordogne ;
30 km from Sarlat, opposite Le Bournat park, in Le Bugue, with Canoëric (8 courses from 5 to 26 km on 4-seater canoes and kayaks with files);
60 km from Sarlat, at the Neufont lake in Saint-Amand-de-Vergt.