Périgueux has a rich 2000-year history. From the ancient Gallo-Roman town city of Vesunna to the medieval Renaissance town, Périgueux has 44 buildings listed or classified as Historic Monuments.
Your Périgueux campsite, cultural capital in the Isle Valley
Did you know ? Périgueux is the cultural capital of Périgord Blanc, in the Isle Valley. Recognised as a twon of art and history since 1985, Périgueux has many historical monuments to discover during your stay on our Périgueux campsite.
The town has always preserved and promoted its rich military, religious and civilian heritage.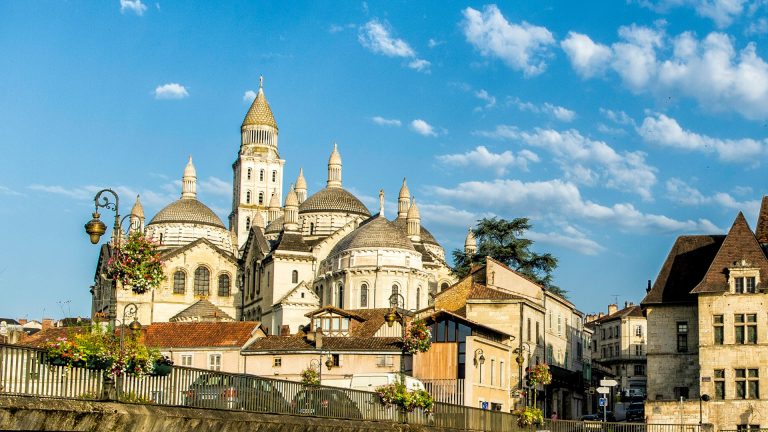 Visits around your Périgueux campsite
The historic heart
Périgueux was born in 1240 from the union between the town of Petrocores to the west and the town of Puy Saint Front to the east. With its 20.5 hectares, the town is now one of the largest protected areas in France. During your stay in our Périgueux campsite, you will be able to discover its two historical districts:
Périgueux, the Puy Saint Front in the Middle Ages: visit the Mataguerre Tower, which offers you an unobstructed view of the roofs of Périgueux and the Isle Valley. End your visit at the famous Saint-Front Cathedral
Périgueux in the Renaissance: explore the Renaissance mansions, inner courtyards and staircases that made Périgueux famous in the 16th century.
Saint-Front Cathedral
The Saint-Front Cathedral is a major monument in Périgueux. Its Byzantine domes dominate the heart of the town with its eight centuries of architectural history, of enormous grandeur. Inside, you will discover its majestic organ.
You can visit the cathedral from the Place de la Clautre via the façade of the "old church" or via the Place de Greffe. We recommend that you admire it from the Saint Georges Bridge which offers a superb view.
Vesunna, the Gallo-Roman site
The Vesunna site-museum is a unique concept in Europe. It presents the Roman origins of Périgueux on the remains of a large Gallo-Roman residence, the domus de Vésone. Discover incredible archaeological collections, which tell the story of the ancient city and the way of life of its inhabitants.
The markets of Périgueux
On Wednesday and Saturday mornings, stroll around Place de la Clautre, Place du Coderc, Place de l'Ancien Hôtel and Place Saint-Silain. Be charmed by the colourful stalls of local producers in a friendly atmosphere. Embark on a relaxed stroll. Whatever the season, you will be able to taste strawberries, walnuts, truffles, foie gras, and other specialties of the Périgord.
Find out more about the campsite news.